To continue our discussion for homeowners looking to sell "for sale by owner" and the ways that having more media materials in your marketing efforts translates to a faster sale and for a higher price, today's post is about one of my favorite methods: using a virtual stager!
According to Forbes.com, "A staged home will sell for 17% more on average than a non-staged home, and 95% of staged homes sell in 11 days or less." Home staging works but it be expensive so I often opt for virtual staging, which is the enhancement of photos to include furniture, artwork, colors, etc. Similar to home staging, it inspires the potential buyer's imagination of the potential look and layout of a room for way less money than hiring a real stager. Plus, digital staging allows you to showcase different options for layout or design. 
Take this living room for example: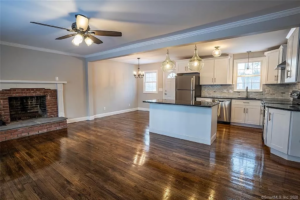 I wanted to showcase that you could have a traditional layout with the couch facing the fireplace OR you could create an in home entertainment system with a projector screen and a simple change to the layout meant the projector wouldn't cover the fireplace so those winter nights could be an epic movie experience next to the fire.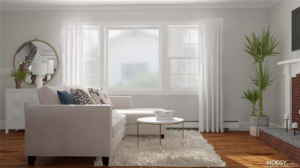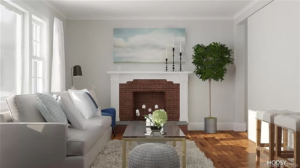 The big drawback of digital staging is that the furniture and artwork isn't actually in the house when people walk through, of course. I still see great success with digital staging and, although I consider it to be the most optional of all the listing tools, I do recommend homeowners consider it, especially if the buyer will need help imagining what they could do in a space. I loved the inspirational virtual image of this kitchen/dining area!
I use Modsy for my virtual staging. They're fast, response to requests and changes, and give you both the image and also the overhead shot! So if you're going to list your house as a "for sale by owner" house, I'd recommend you consider giving virtual staging a try!