Are you preparing to sell your house without an agent to help give you some tips? If your house is outdated but otherwise in good shape, there are small, cost-effective improvements you can make that will drastically improve the marketability. These will help any for sale by owner listing get a maximum offer from buyers.
Tidy landscaping 
Making sure the grass is mowed, flower beds aren't overgrown with weeds, and there's some healthy-looking foliage in the front adds to the curb appeal and improves the buyer's first impression. 
Cosmetic Updates
It's not too hard to change out light fixtures and updating them with some more modern fixtures makes the whole house feel updated. I like fixtures like this because they're neutral and cost-effective. I renovated an old victorian home last year and many of the rooms just needed a little refresher. Here are the light fixtures I used! 
Something I do in all of my rentals, even if I'm not doing a ton else to them to change the look, is I make sure we update all of the outlets, switches, and cover plates to white will make the house look crisp and fresh. 
Remove the carpeting
Do you have an older house with hardwood floor underneath? Perhaps my favorite renovation strategy to frugally increase the value is to tear up the carpeting, remove the tack strips, and do a light refinish using equipment that you can easily rent to add the wow-factor to your house. This is a VERY cost-effective project and appropriate for DIYers.
Paint  
Finally, the VERY BEST bang for your buck is another DIY project: painting! Painting brightens and modernizes the space and makes it look brand new. Choose a neutral color for your walls, like Sherwin William's Agreeable Gray. You can also paint your cabinets. It's labor-intensive but absolutely manageable. Check out this before (or should I say "during") and after of one I tackled myself using Benjamin Moore's dove white. 
Painting the front door is also an easy task and will look so nice with your fresh landscaping! I use Sherwin Williams' Tricorn Black for a classy, dramatic look!
Here's a door we painted with Tricorn Black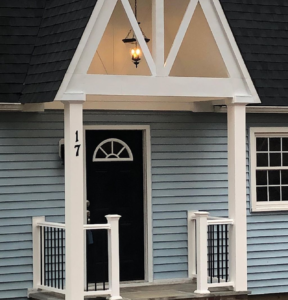 Here's one of my earlier projects where I painted, changed a light fixture, and removed the carpeting! This was such an inexpensive project and look at the transformation!
Those are some of the light renovations I use often, especially in my rentals when I'm taking cost-effective measures to update the house. Let me know if you try any of these!!!