Haunted, spooky, creepy, and scary are great descriptions for Halloween haunted houses in Connecticut, but when speaking of a house to live in not so much.
What happens when the house you own is haunted, spooky, creepy, or scary?  It may seem like no one wants to buy your house and you're stuck with the haunted attraction that never ends. Sunrise Real Estate has a solution for spooky haunted houses in Connecticut.   We promise no tricks only treats at Sunrise Real Estate.
Sunrise Real Estate buys houses in Connecticut for cash no matter the condition. We take care of your scary situations so that you don't have to clean or repair anything on your property.  Other benefits include a quick closing.  You will also keep more of the sale price because we don't charge any type of commission in buying your unwanted house.  Sunrise Real Estate is a local business based here in central Connecticut.  This is where we focus our business because this the area we know best.
At Sunrise Real Estate we deal with scary situations.
We can offer solutions if you're considering a short sale to help preserve your credit (please call before you stop paying your mortgage).  Other scary situations we often deal with are: divorce, inheriting an unwanted property, liens, or bad tenants.  No matter how scary your situation is, Sunrise Real Estate can help.  Just give us a call at (860) 794-0551.
The process of Sunrise Real Estate buying your haunted house in Connecticut is easy.  You give us a call and we will ask you questions about your property and your situation.  We will set up a time convenient for you so we can take a look at the property.  We will give you a fair cash offer for your house.  The price of our offer depends on the area, size of the house, and repairs that need to be done.  There are no fees or obligations for the offer so you have nothing to lose!  Once you decide to accept our offer we can close in as little as 7 days, or when it's convenient for you.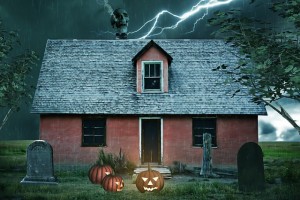 Because we buy houses in cash there is no long waiting period to close and no contingencies.  You will not be asked to fix anything or even clean!  We pay closing costs and do not charge any commissions.  That means more money in your pocket and not having to pay 6% of the selling price like when selling with a traditional real estate agent.  Visit our FAQ page to learn more about our house buying process.
Now is the best time to get rid of your haunted houses in Connecticut.  You can start off the new year with a fresh start with no burdens.
The bottom line: If you have a property that you are ready to sell, we will make you a fair cash offer and close on your timeline or in as little as 7 days.  Ready to take the next steps?  Contact us by filling out this form here or give us a call at (860) 794-0551.